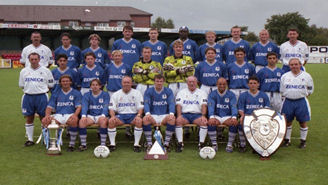 Welcome to the archive web site for the former Macclesfield Town Football Club which was liquidated on 16 September 2020 following the implementation of a Winding-up Order in the High Court.
Here you will find Manager and Player Profiles, including career paths before and after their time with the Silkmen where known, Matches listed by League, together with teams, scorers and attendances, as well as a breakdown of appearances and goals season by season. There are Head to Head lists for each individual League, together with other major statistical information including hat-tricks, top ten appearances, top season scorers and more. Also additional chapters to the book 'The League Story so far', the e-book 'Back to the Non-League Scene' and the occasional Article.
Whilst the club is no longer in existence, the web site remains live as a record of the history of the club and is regularly updated with the career paths of former players, with historical information added following further research and additional Articles of historical interest are also added from time to time.